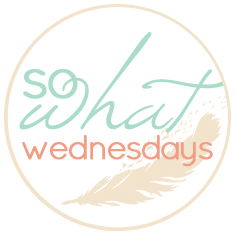 So what if...
I'm not into a lot of current trends. Midi rings is one. I'm also not into the way oversized, boxy shirt thing. I don't care how soft that "shirt" is...it looks like a tent and is flattering on no one. Am I the only person who wants to see the waistline I worked so hard to finally have?
I find inappropriate things funny.

I dipped a chocolate chip cookie in my coffee yesterday morning.
Captchas make me irate. I might be a robot...

I tweeted for the first time in years the other day just to enter a giveaway.
I think I like Daniel Tiger's Neighborhood more than the babies.
I'm addicted to scarves. I can't wait to wear my new Three Bird Nest scarf. Hurry up, Fall!

Gah she's gorgeous!

I'm annoyed by too many hashtags on Instagram. #don't #do #this, #please. #I #beg #you.
My bangs were driving me crazy the other day and I was too lazy to get up so I used one of Sissy's bows to pull them back.
What are you saying So What to?
(I always feel a bit bitchy on So What Wednesdays. It's like a mini rant session. Sorry!)