Today I'm linking up with KTJ!!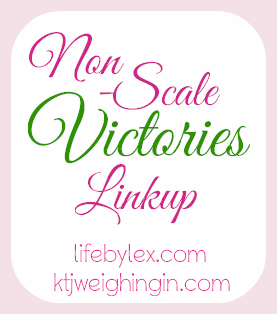 Since I suck at weight-loss life lately, I'm going to talk about some of my favorite NSV's!
These are not all recent, just some that have been a really big deal to me throughout my weight-loss journey.
I can now sit comfortably in a movie theater/stadium seats. Before I lost weight, I used to dread sitting in a movie or going to a concert. My hips were always squeezed between the armrests and I was always invading someone else's space with my upper body. Now when I pull the arm rest up at the movie, it's to snuggle closer to my husband, not to regain circulation.
My resting heart rate used to be around 80 bpm and now hangs out around 60 bpm. I remember thinking there was something wrong with my heart rate monitor because it started reading a much lower number after a while. I wasn't aware that my previous heart rate was a not so good thing.
I'm riding horses again

(oh I've mentioned that before?)

and I'm able to pull myself up on my horse. This is something I was never able to do even as a teenager. I always needed a boost to get into the saddle. This is probably less weight related and more to do with my upper body strength. Thanks, Group Power :)
Being able to use regular bath towels! I no longer have to use a beach towel or bath sheet to be covered. This one was huge for me. I can't tell you how many times I traveled with my bath sheet in tow because I knew I wouldn't be able to use the towels provided at a hotel. Well, I could use them, but I felt like I was using a hand towel!
Single digit jeans. Other than that 143 lbs (half my highest weight) that I hope to see one day, wearing a size 8 was my ultimate goal. Here's a picture from the happiest dressing room day of my life!

Sitting in B's lap and having him pick me up. I could sit in B's lap before, but I always felt like he was just being nice when he said I wasn't too heavy. He also used to try to pick me up, but I fought it with all my might because I didn't want him to feel how heavy I was. Now I make him pick me up all the time. It makes me feel dainty, and I don't often feel dainty at 5'7". I think he loves that I want to do these things now when I used to fight him on them. This one ranks right up there with that size 8.
What are some of your favorite NSV's??