Oh so predictable!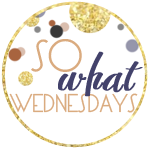 So What if...
I used a double negative in that last sentence.
I'm in love with this sequin sweater from Hazel & Olive and it was like Saturday Night Fever up in my car with the sun shining on me
I get baby fever every time I hold a newborn. My cousin and his wife welcomed their second sweet baby girl Monday night and I got to love on her yesterday. I could snuggle a newborn baby all day long.
I bought boots from e-bay strictly for horseback riding and I kind of love them and want an excuse to wear them more.
My children are currently running around in nothing but a diaper
I'm so glad my hair is growing! Only 10 or so more inches to go...

My favorite little Tex-Mex place has lights up for decoration, not holiday, purposes and I still got excited for Christmas when I saw them.
I'll be posting the Q&A post tomorrow, so let me know if you have any more questions for me by commenting below or sending an e-mail to AmberCHM(at)gmail(dot)com. Weight-loss, personal, random...I'll answer almost anything.
Y'all have a great day and make sure to visit Candace at
The Fun Fat Chick
!
I swear, every time I read Candace's blog, I think to myself "I need to do that too!" From her
media fast
to
this week's goals
...especially #3! Her
Thankful Thursday
post from last week gets me thinking too. I love that Candace talks about her weight-loss journey and improving life in all areas.